Belarus talk 27th August 2021 – during International week of solidarity with anarchist prisoners – Semana internacionalde soldaridad con los anarquistas encarcelados 23-30 Agosto 2021
Belarus comrades we are doing an online lecture on the situation of the repressions in Belarus – https://pramen.io/en/2021/08/repressions/. Please spread around and feel free to join.
Details: "Protests and repressions in Belarus from anarchist perspective" – 27 august 2021 19:00 (Minsk time).
News from Belarus hardly make headlines of the English-speaking media and if something comes it is mostly about some new crazy move of dictator Lukashenko. The protest for now is not happening anymore, but the struggle continues. A massive network of solidarity is supporting thousands of repressed among them dozens of anarchists and antifascists. Some spontaneous decentralized protests are happening on a regular basis.
To bring attention to the repressions and the current dire situation of the protest movement we decided to organize an online presentation within the Week of solidarity with anarchist prisoners. We will talk about the key moments in protests and more in details about anarchists in it as well as the most serious repressions against the movement after collapse of the soviet union.
Details of the stream will be published several hours before the protest on the page – https://pramen.io/en/2021/08/repressions/
Presentation will be held at the same time in russian. For more details check this page – https://pramen.io/ru/2021/08/repressii/
here you can find a monthly update on repression against anarchists and
overall population in Belarus, feel free to spread it
https://abc-belarus.org/?p=14231&lang=en
Also, August 9 was the anniversary of the first protest after elections in Belarus. More people were arrested to prevent 'celebrations', whilst a week of solidarity with the people of Belarus occurred on August 8-15:
https://pramen.io/en/2021/07/call-for-a-week-of-solidarity-with-the-belarus-uprising-of-august-8-15/
Another feature for this week in Spanish: 'Para la Libertad' 'For Freedom' – a public anti-prison podcast by CNA Asturias to listen to anytime: https://cruznegraanarquista.noblogs.org/post/2021/08/24/para-la-libertad-un-podcast-publico-anticarcelario-de-cna-asturies-en-la-semana-internacional-de-solidaridad-con-anarquistas-presxs/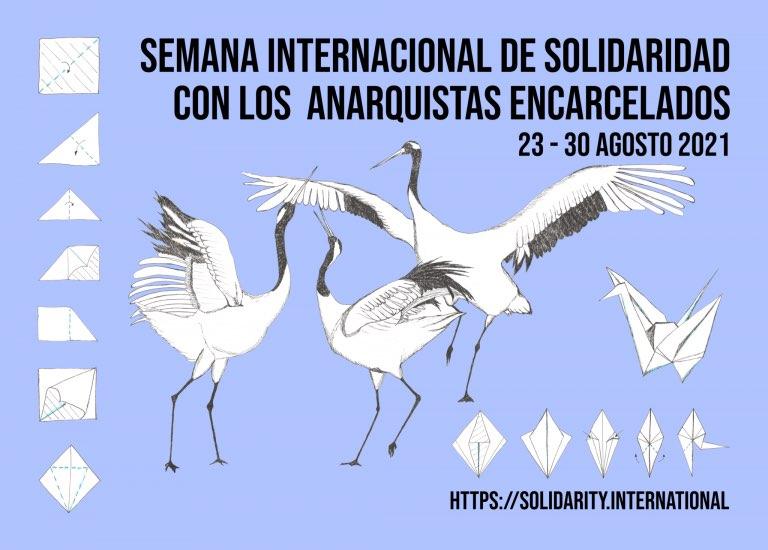 Semana internacionalde soldaridad con los anarquistas encarcelados 23-30 Agosto 2021
Week of international solidarity with anarchist prisoners 23-30 August 2021